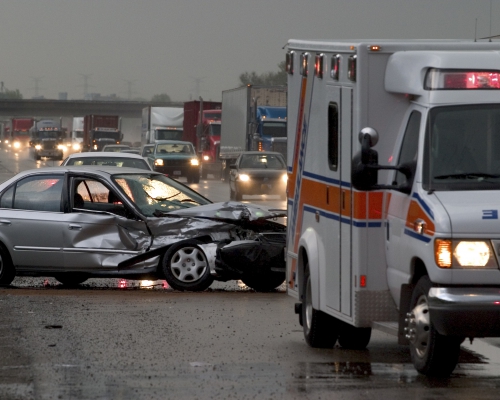 Make the best out of a bad situation by hiring Maclsaac Gow lawyers today!
USP: With our unparalleled experience, we are here to offer you personalized, expert legal guidance.
Finding the best car accident lawyer in Kitchener can be a difficult task. With so many lawyers to choose from, it can take a lot of work to know who is the right one for you. That's why Maclsaac Gow LLP is here. We are an experienced and reputable law firm specializing in car accident cases. We understand how complex these cases can be, and we strive to ensure that our clients get the compensation they deserve.
At Maclsaac Gow Lawyer, we offer a wide range of legal services related to car accident cases. We understand that every case is unique, and we provide personalized attention to each one of our clients. Our experienced lawyers will work diligently to ensure that your rights are protected and that you receive the best possible outcome in your case. Whether you have been involved in a single-vehicle or multi-vehicle accident, we are here to help.
In addition to car accident cases, we specialize in slip and fall cases and dog bite cases. Our lawyers know the laws surrounding these cases, and we can help guide you through the process. We understand that slip and fall cases can be complicated, and we will work hard to ensure you get the compensation you deserve for your injury. Dog bite cases can also be complex, and we have the necessary experience to assist with these cases as well.
At Maclsaac Gow Lawyer, we are committed to providing our clients with quality legal advice and representation. We understand how difficult it can be to go through a car accident case, and we will do everything we can to ensure your rights are protected. With our expertise and commitment to excellence, you can rest assured that your case will be handled professionally and efficiently. If you need help with a car accident case, slip and fall case, or dog bite case in Kitchener, contact Maclsaac Gow Lawyer today.
Do's and Don'ts of Car Accidents 
If you've been in a car accident, you should remember certain do's and don'ts. Taking the proper steps to protect your rights as an injured victim is essential. Here is what you should do and not do if you have been in a car accident.
Do's:
Seek medical attention right away. Injuries may take time to surface, so even if you feel fine after the accident, it's essential to get checked out by a medical professional.

Call the police so they can assess the scene and create an accident report that can be used to prove your case.

Gather information from witnesses who saw the accident happen. This includes their contact information, a written statement of what they saw, and any pictures or videos they may have taken of the accident scene.

Please take pictures of the vehicles involved in the accident, and the damage caused to them, and the location of the accident.

Contact a qualified car accident lawyer who can guide you through the process and ensure that you receive fair compensation for your injuries. MacIssac Gow LLP will assist you in an unfortunate event like this. 
Don'ts
Don't admit fault or blame for the accident. Even if you think you were partly at fault for the accident, don't say anything to anyone except your lawyer.

Don't give a recorded statement to anyone other than the police or your lawyer.

Don't sign any documents without consulting with your car accident lawyer first.

Only agree to settle with an insurance company once you consult your lawyer. They may try to pressure you into settling for an amount that is much lower than what you deserve.
4 Reasons to Hire Maclsaac Gow Lawyer for Your Car Accident Case:
When it comes to car accidents, there are a variety of legal issues to consider. That's why it's important to choose a lawyer who is experienced in handling car accident cases. Maclsaac Gow Lawyer is a team of car accident lawyers who can help you navigate the legal process and get the best possible outcome for your case. Here are five reasons why you should consider us as your car accident lawyer:
Extensive Experience
We have more than 28 years of experience representing clients in car accident cases. Our lawyers have handled hundreds of motor vehicle accident cases and have recovered millions of dollars in damages for our clients.
Personalized Service
We understand that car accident cases can be stressful and overwhelming for our clients. That's why we provide personalized service to ensure that you are informed and supported throughout the process.
Comprehensive Representation
Our car accident lawyers provide comprehensive representation to help you get the compensation you deserve. We will evaluate all aspects of your case, including medical bills, lost wages, pain and suffering, and more, to determine the best course of action.
Experienced Negotiators
We have a team of experienced negotiators who can help you maximize your settlement amount. Our lawyers know how to negotiate effectively with insurance companies and defence lawyers to get you the maximum possible settlement.
We at Maclsaac Gow LLP pride ourselves on providing exceptional legal services. So if you're looking for a reliable car accident lawyer, contact us today to discuss your case and learn more about our services.
I am extremely grateful to Fraser Gow for his dedication and genuine concern for me and my case. He showed empathy and advocated for me from the very beginning! I always felt like I was in great care and represented by the best law firm! Fraser, words alone cannot express my gratitude to you…but THANK YOU! Without a doubt, I highly recommend him!
The staff of this law firm has been an excellent and very cooperative. Especially Mr. Fraser Gow made me very comfortable, he has been very patient while listening to my views and he has been explaining very clearly the step by step process about my car accident case. He has been delivering the goods with on par excellence.Job well done.I highly recommend this law firm.
Abdul Vahab Farjana Begum
12:12 29 Sep 22
Thank you to Fraser Gow and his team for all their efforts and hard work. They were amazing to work with. Fraser was professional and went above and beyond to make sure I understood the process. I highly recommend Fraser and his team!
Great experience dealing with this law firm. Fraser himself is a pleasure to do business with, and honest and straightforward. He explained everything well and was with me every step of the way. Kudos for a job well done. Highly recommended this firm.
Jay Pillai
16:49 22 Jun 22
I used Fraser Gow for a personal injury lawsuit. This guy was kind and compassionate, explained the whole process many times over with no hesitation until I fully understood the process.Covid held thing up for us, but finally after all said and done I agreed with a settlement and have been paid out.Thanks Fraser and team
Mike Aitken
21:25 24 Aug 22
MacIsaac Gow LLP Key to Your Legal Success
Past results are not necessarily indicative of future results.