Injury Lawyers · Bicycle Accidents
Personal Injury Lawyers for Bicycle Accident Victims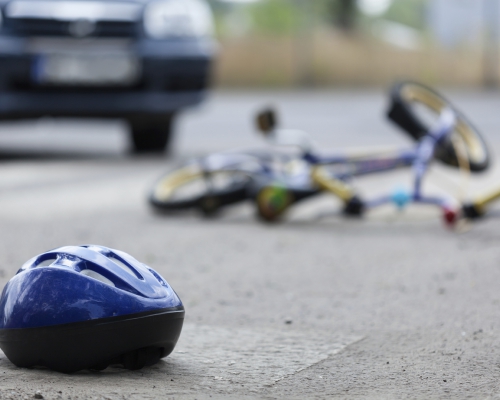 If you have been involved in an accident while riding a bicycle, we can help.
In addition to cycling for exercise or recreation, cycling is becoming a preferred method of transportation for people who are commuting or travelling. Unfortunately, with a rise in the number of cyclists, more and more people are now vulnerable to injury as a result of accidents caused by motor vehicles. These accidents can result in serious injuries that substantially affect an individual's quality of life.
Although you might not have your own insurance, you are still entitled to the same rehabilitation benefits as if you were involved in an accident in a vehicle.
We can assist you in applying for these benefits and ensuring you receive everything to which you are entitled.
If you or your loved one has been in a bicycle injury, it is important to first report the accident to the police and to ask for the contact and insurance information of the driver that hit you. Next, you should seek medical attention immediately. Although injuries may appear minor at first, often these injuries can become more serious. Finally, contact MacIsaac Gow LLP to evaluate your case and to advise you on how to further proceed.
At MacIsaac Gow LLP, we have an experienced team that will guide you and support you through every step of the way. If you've been injured due to the negligence of someone else, let us help you!
Talk to Us
I am extremely grateful to Fraser Gow for his dedication and genuine concern for me and my case. He showed empathy and advocated for me from the very beginning! I always felt like I was in great care and represented by the best law firm! Fraser, words alone cannot express my gratitude to you…but THANK YOU! Without a doubt, I highly recommend him!
The staff of this law firm has been an excellent and very cooperative. Especially Mr. Fraser Gow made me very comfortable, he has been very patient while listening to my views and he has been explaining very clearly the step by step process about my car accident case. He has been delivering the goods with on par excellence.Job well done.I highly recommend this law firm.
Abdul Vahab Farjana Begum
12:12 29 Sep 22
Thank you to Fraser Gow and his team for all their efforts and hard work. They were amazing to work with. Fraser was professional and went above and beyond to make sure I understood the process. I highly recommend Fraser and his team!
Great experience dealing with this law firm. Fraser himself is a pleasure to do business with, and honest and straightforward. He explained everything well and was with me every step of the way. Kudos for a job well done. Highly recommended this firm.
Jay Pillai
16:49 22 Jun 22
I used Fraser Gow for a personal injury lawsuit. This guy was kind and compassionate, explained the whole process many times over with no hesitation until I fully understood the process.Covid held thing up for us, but finally after all said and done I agreed with a settlement and have been paid out.Thanks Fraser and team
Mike Aitken
21:25 24 Aug 22
MacIsaac Gow LLP Key to Your Legal Success
Past results are not necessarily indicative of future results.